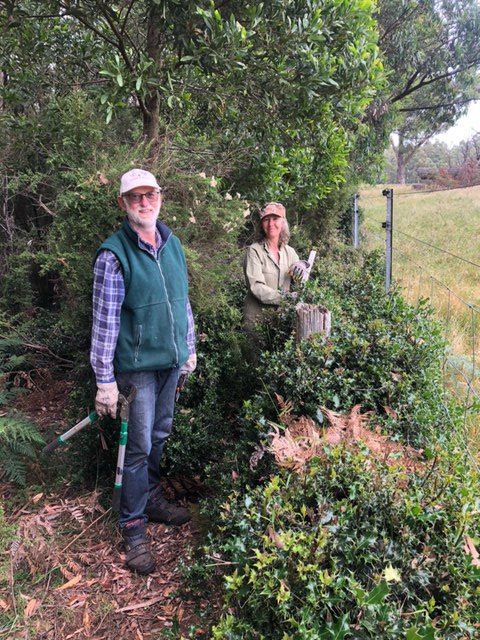 As we entered the 'not so bad' area of Holly between Mudburra and Nyora this morning we were all daunted by the extent of the Holly problem. 
I'm so grateful to Bindi for organising the contractors, and for removing the old fence that was serving as a Holly hedge wall on the eastern Mudburra paddock fence. 
Thanks to Susanna for catering a beautiful lunch for us all, and for including Taiga in her catering- Taiga loves it! 
Thanks to Sandra, Peter, Gabby, Amy G, Anne, Yin and Taiga for working so hard on the Holly today. 
We threw the old fencing wire and Holly into the Mudburra east paddock so it can be picked up with a trailer/ Ute.
The contractors will be back next week – and will be working below where the pines have been taken down next to the lodge.

Here's a photo of Graeme with a rare Cinnamon Orchid he found, and one of the contractors after clearing some of the fence line, and one of Bindi and Peter whilst removing the old fence. 

Thanks again!! 
Oh- and thanks to Mark G for mowing around the lodge!
– Chelsea