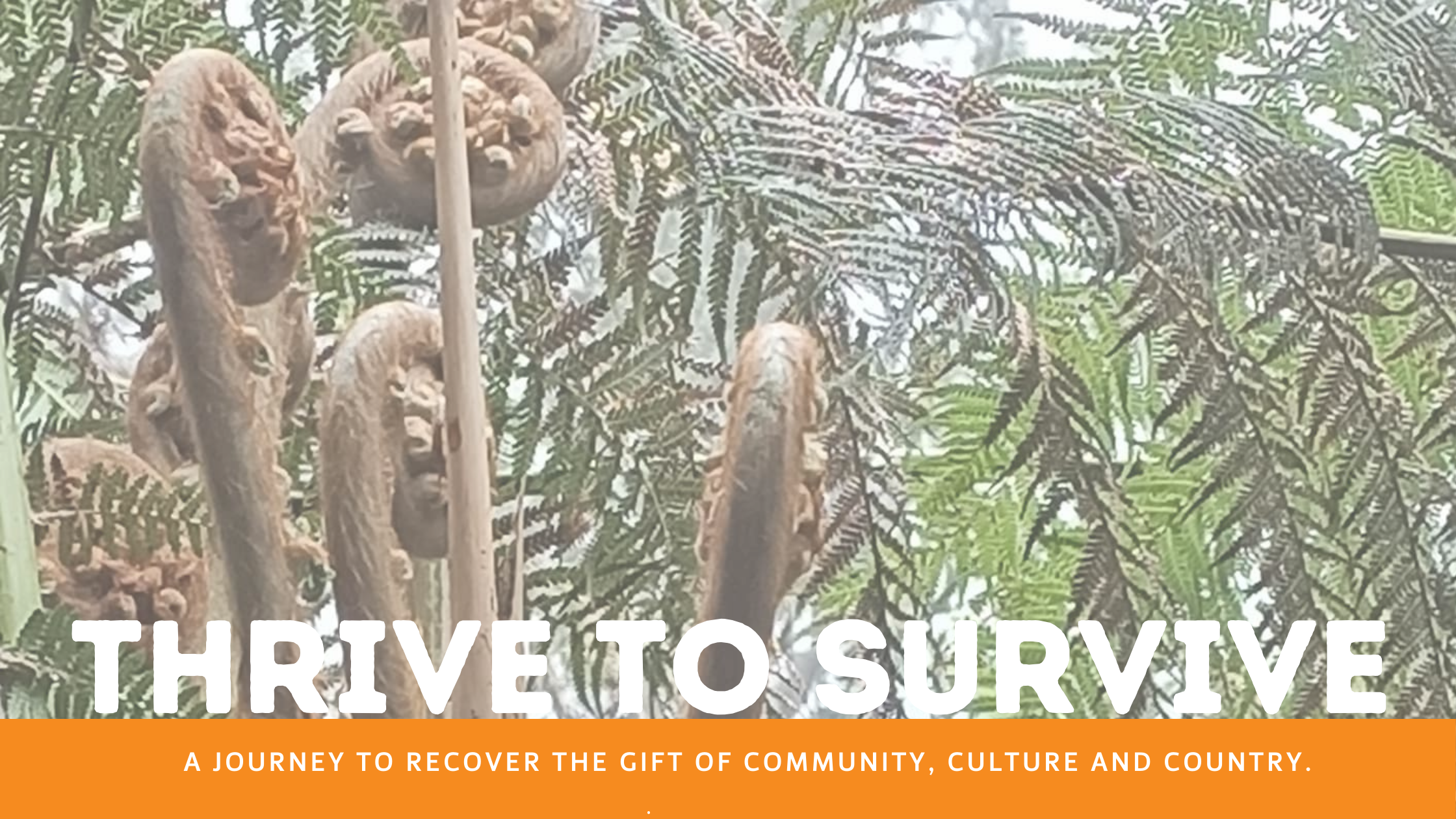 Thrive to Survive: Four Night Gathering
4 night gathering: 5pm Thurs 24 Mar-5pm Mon 28 Mar 2022//$700 incl meals and accom 
Moora Moora Cooperative Community, Mt Toolebewong (approx. 1.5hrs from Melbourne)
Book with confidence-should restrictions require postponement, full refunds will be quickly processed.
Contact: Learning Centre Coordinator: Yin Paradies  –yinparadies@gmail.com

About This Event
Join with up to 15 others on top of Mount Toolebewong and tune your ears to lyrebird song. Meet passing wombats at dusk as you head to the circle around our campfire where we'll gather to share life-making experiences. 
A night camping in the forest begins a contemplative journey, attuning ourselves to nature and being open to our thoughts and feelings as they emerge. Careful attention will be paid to our environment as we participate in energising activities and group gatherings. Experience the power and awe evoked by the mountain as together we walk the floor of a tall forest reflecting on the wonder of the web of life.
Moora Moora is an intentional community where people have lived together surrounded by forest for almost 50 years.   We'll assist the community by removing holly as a pathway to active service.
Come and discover what community means and share our practical experiences of how to go about building healthy, inter-dependant relationships between people, other beings and the places where we all live.
We believe that it is vital that we learn how to work with multiple ways of knowing and being – intuitive approaches, dialogue, active participation, embodied learning as well as our usual cognitive approaches and critical thinking. Part of our exploration will focus on being fully present and in our bodies; building awareness of what we feel and think.
Build empathy for the change-makers and those who dare to question and consider how we can nurture them and ourselves, building strength for the work we need to do.
One thing seems very clear to us: we cannot make a sufficient difference in the world until we accept the need to transform ourselves and how we live. So we will leave space to learn about what you need to help you on your journey and we'll offer as much as we are able.
Imagination is a key to change –humans need to be able to imagine realistic grounded futures so we'll begin the process of exploring what might work in visioning and building a sustaining future.
What do we mean by Community?
We are part of the great interdependent living cycles of our planetary home. We are, in reality, accountable to all beings and in those relationships we are formed and held – we become!
Come and explore how we might live in accord with these relationships. We'll need to face a truth that may frighten us and find ways to learn, evolve and flourish…to draw up and tend the tremble of new shoots of our dignity, dedication, love and care to craft them anew. It's time to re-learn that the basis of community is mutually reciprocal, interdependent relating with each other and the more than human world. 
Join in sharing about communities that regenerate and network, that evolve in response to what happens around them. Communities that scan the future to meet its challenges and opportunities. Communities that are on the path to a shared future worthy of bequeathing to the coming generations.
How Can We Survive? What is the urgency? Why is this important?
The Sixth Great Extinction grinds inexorably and shamefully onward. Alienated from earth, humans are hooked on the tails of multiple epidemics. We navigate the storm of Covid in a disparate fleet of leaky boats to luxury yachts, flimsy rafts and cruise ships, in a sea of confusion, despair and outrage. We are ravaged by loneliness and mental ill-health while ever more trapped in oppressive systems.
In spite of the warnings and the ominous signs, we're slipping over the brink. Stark choices stare us in the face. We're forced to find the courage to explore creative and even subversive possibilities. 
In these times we need sorrow, solace and soul to sustain us. We need each other and the more than human world – community! 
What Can We Do?
We're calling up our kith and kin to re-member. To call back a way of being that starts from the premise of 'the gift of together'. Wombats, wallabies, snakes, worms, trees, grasses, microscopic bugs, wedge-tail eagles and lyrebirds may be encountered as we share in community. Leaning up against the trunk of a mountain grey gum perhaps, we'll sense a pulse that is content with being in place.  
This is a time to connect and plan greater interdependence.  As we learn, we are stretched beyond the limits of what we can be or do on our own. Others hold up a mirror to us and hold us accountable, as we in turn, provide this reflection for them. It is only through this process that the potential of each can be realised. And therefore, it is through this same process that communities develop the synergies required to thrive and regenerate.
Who Is It For?
This exploration is for those who know that we are in trouble and want to gather with others to find nourishment. To resolve to find other ways of living, knowing, being, doing, perceiving and relating. Above all, it is for those who are ready to take on the response-ability to care and to create a legacy for future generations – one that is worth having! It is for those of us who hold a deep and abiding love for this miracle of a planet. For those who will make the commitment to engage and be heart-full, who will step out beyond the unquestioned known into the beyond. For those who accept that there is no magic portal but that each of us are world makers.
We are offering limited full or partially funded places in the workshops to those involved in environmental activism.
Interested?… Send us a couple of paragraphs on your environmental story via email to yinparadies@gmail.com
Thanks to the support of the NED Foundation, Moora Moora has been able to develop and offer this gathering.
Who Are We?
Join our team from Moora Moora Cooperative Community, an off-grid community since 1974. And join Mount Toolebewong's community of  fresh water springs, mountain top forest and grass lands, lyrebirds, wombats and more. We seek to learn from the first peoples; from the past and calling upon our ancestors as we explore relational systems, community, wilding, deep adaptation and regenerative practices.
Thrive to survive facilitators
Peter Cock 
"We can offer respite to eco activists – a place to create alternative stories of living in community." – Peter
Peter is a co-designer and founder of Moora Moora, established in 1974. His work has included teaching ecopsychology, conserver society, entering the ecological world, warriorship, social and sacred ecology. Working in an academic role, with strong creative thinking and verbal skills, while struggling with dyslexia, equipped Peter to see limitations as an encouragement to cooperate. His approach to facilitated learning is focused on designing processes for direct experience and reflection within Country and with a small human group of participants.
Yin Paradies
"We need to interrupt the devastating impacts of modern society and engage in practical decolonial actions." – Yin
Yin Paradies is an Aboriginal-Asian-Anglo Australian of the Wakaya people from the Gulf of Carpentaria and a current resident at Moora Moora. He is Professor of Race Relations at Deakin University where he conducts research on the health, social and economic effects of racism as well as anti-racism theory, policy and practice across diverse settings, including online, in workplaces, schools, universities, housing, the arts, and health. He also teaches and undertakes research in Indigenous knowledges.
Yin is a climate and ecological activist who is deeply committed to understanding and interrupting the devastating impacts of modernity, including the need to relinquish debt, property, institutions and nation states. He instead seeks meaningful mutuality of becoming and embodied kinship with all life through transformed ways of knowing, being and doing that are grounded in wisdom, humility, respect and generosity. He engages in an ethos of down-shifted collective sufficiency, voluntary simplicity, frugality, direct democracy and radical localisation.
Lesley Shuttleworth
"I never talk about community as human; it is always in the context of the more than human community" Lesley
Lesley Shuttleworth's earliest memories are embedded in the community life of her family farm in rural South Africa learning to speak English, isiZulu and the natural world. Watching dragonflies flit across the water of the little river, listening to water tumble over rocks and slide into slow pools, croaking frogs, whisper winds and rustling grasses, summer cicadas, the bark of an occasional bushbuck.  This early experience made living in the web of life a reality that was simply there, with no real need of explanation.  The cycles of birth, living and dying were all around.
 Lesley has always loved the notion that to live is to learn and to learn is to live.  When she was studying for a Masters in Sustainability and Social Change, she encountered the notion that to learn is to 'get it under the soles of our feet' and she more deeply appreciated the experiential nature of life.  It seems to Lesley that the fullest experience of the world (in its natural wild state) may be our purpose and that honing our senses and capabilities is the path that can lead us back home and allow us to be fully alive. 
Sean O'Sullivan
"It's important to make space for reflection and discussion…in order to respond to our ecological crisis together wisely." – Sean 
Sean O'Sullivan is an elder and director of Moora Moora, who cares deeply about the cooperative community's moral compass and how decisions are made.  Sean's employment experience includes roles as Lecturer in Information Technology at Swinburne University, Mathematics and Information Technology teacher at RMIT and Outer Eastern College of TAFE and Technical Assistant at the Government Aircraft Factory.
Sean holds an Associate Diploma in Aeronautical Engineering from RMIT, a Bachelor of Arts from Latrobe University and a Diploma of Education from SCV Hawthorn.
A long term resident of Moora Moora, Sean is widely read in the areas of Science, Contemporary Politics and Environmental Politics (including climate change, deep ecology, ecologically spirituality).
Gabrielle Higgins
"We urgently need to be still. Sit with a tree, do nothing but see and feel for a while…it will help." – Gabby
Gabby is a poet, with a focus on eco-poetics and community development worker, with a focus on mind-body connection and creativity as mindfulness methodologies. She is a Moora Moora member, who believes that, while we can create as individuals, we can create more in community.
Her work experience includes over a decade as a yoga and dance instructor in Boston and Sydney and community engagement facilitation.  Her work is supported academically by a Masters of Strategic Public Relations from the University of Sydney, with a focus on deliberative democracy. Completing the coursework for the Advanced Diploma of Group Facilitation at Groupwork Institute enhanced her skills in group process. Her creative and embodied work is supported by a Bachelor of Arts in Performance Studies from Victoria University, where she choreographed pieces examining social issues in an embodied way.  
How Can I Find Out More?
Click through for further information and tickets:
Four Day Gathering – https://events.humanitix.com/thrive-to-survive-4-day-program
---